As we finally emerge from months of lockdown, you may be feeling desperate for a change of scenery and a proper break away… I know I am!
Of course, international travel is still a right mess—and with news reports claiming that UK hotspots are already 90% booked, there's a rising sense of panic about missing out on that all-important summer break.
The great news is you can still find an Airbnb in some of the UK's coolest beach locations, even those within easy reach of London.
It's time to celebrate the great British seaside. Escape the city, explore unexpected new places, and breathe in that wonderful sea air.
Your summer trip 2021 is just waiting to be discovered… here are some of the best beach days out from London this summer.
Beaches on a direct train route from London
Margate
Good old Margate has been a popular destination for British holidaymakers since the 18th century. As the birthplace of donkey rides and deck chairs, it's clearly doing something right!
The sandy beaches, fish n' chips and seafood stalls remain as appealing as ever, and the renovated Victorian and Georgian seafront properties make a stunning backdrop to any day out.
Along the harbour, the old fishing huts have been converted into cafés and bars, so if screaming kids get a bit much and you need an emergency glass of prosecco, you're in luck!
While you're sipping that glass of fizz, you'll have a chance to appreciate the incredible views, including "the loveliest skies in all of Europe" according to artist JMW Turner.
Speaking of which, Turner also lends his name to the acclaimed Turner Contemporary art gallery nearby. The gallery is home to a range of collections, from the edgy and challenging to the accessible and fun.
And talking of fun, the kids (and maybe a few of the adults too) will obviously insist that you visit Dreamland amusement park. There, you'll get a chance to ride on the UK's oldest rollercoaster, the wooden 'Scenic Railway', which first opened over 100 years ago!
If you want to grab a cocktail and a bite to eat, visit the narrow streets and small square which make up the 'Old Town'.
There are 86 direct trains from London to Margate each day. This includes the high-speed train line from St Pancras.
Whitstable
Love food? Dumb question, right—who doesn't? But perhaps only the real foodies among you will already know all about Whitstable. Heading there is pretty much a pilgrimage if you're into seafood, and Whitstable is particularly known for its oysters.
Even if slurping back shells isn't your thing, Whitstable is a great looking place to visit and one of the most popular beach days out from London. The old weatherboard cottages, bright-coloured beach huts, and shingle shorelines are the perfect setting for relaxing walks as well.
As you're strolling along the shoreline, you'll find small fishing boats that have been pulled ashore, and the Old Neptune pub also sits right on the beach.
Whitstable's working harbour sees plenty of boats coming back and forth and you can take a trip out yourself. A ride on the vintage lifeboat to try and spot some seals always goes down well.
Away from the seafront there are busy, vibrant streets, full of adorable little shops and glorious street art.
Whitstable has its own 'Banksy,' whose artwork can be found of the side of plenty of local buildings.
If you're after some sightseeing that's a little less edgy, Whitstable Castle and Gardens are beautiful as well and you can easily spend an hour wandering round there.
There are 59 direct trains from London to Whitstable each day, including the high-speed train line from St Pancras.
Folkestone
This small coastal town has the largest urban outdoor collection of contemporary art in the UK and Harper's Bazaar describe it as 'the artistic rough diamond you really need to visit.' This is my personal favourite of these beach days out from London – it has a special place in my heart as I used to live there!
From Gormley's cast iron, human statue to Cornelia Parker's mermaid statue; from Lubaina Himid's giant ceramic jelly mould to Richard Wood's cartoon style bungalows—there's plenty of impressive art to see and talk about in Folkestone.
The ambitious Triennial art exhibition will also bring 20 new outdoor artworks to Folkestone, and is set to run from Thursday 22nd July to 2nd November 2021.
For more historical features, check out the Victorian bandstand and The Leas Lift.
The Leas lift is grade II listed and has carried more than 50 million people from the seafront to the clifftop promenade. The water and gravity-based lift is sadly closed for the time being, though with its low carbon footprint, it should have a promising future.
There are both pebble and sandy beaches to enjoy in Folkestone, plus the quirky tunnels at the back of Sunny Sands beach are great for photos.
There are plenty of reasons to visit the Coastal Park too. There's a special wildlife area, pine avenues, gardens and flowers—and at the amphitheatre, which sits close to the beach, you may even be treated to some live music or theatre.
The Coastal Park also features the largest, free adventure play area in the South East, so if you have any little terrors that need entertaining, this is the place for you.
Along the harbour, independent traders serve up top quality food and there's also a stylish lighthouse that houses a champagne bar, if that's your thing!
The Creative Quarter, with its vintage shops, quirky cafes, and galleries is a super cool place to hang out.
There are 111 direct trains from London to Folkestone Central each day, again including the high-speed train line from St Pancras.
Hastings
Nestled between towering cliffs, you likely know Hastings from GCSE history—this is indeed the site of the 1066 battle!
The castle ruins pay homage to its past, but these days Hastings is a busy fishing port and home to the largest beach-launched fishing fleet in Europe.
Unique, tall, black-tarred fishing huts line the Stade shingle beach.
There's so much to do in Hastings; it's home to a little funfair, amusements, and the steepest funicular railway in the UK—I suspect many of us have a man-child in our lives that will insist on going on that!
The pier in Hastings has won a RIBA Architecture award for its re-imagining of a traditional pier; now offering an enormous, free, platform over the sea with live music and bars.
The meandering alleyways of the Old Town are full of independent shops and a variety of places to eat and drink, many with live music.
There are 150 direct trains from London to Hastings each day.
Beaches near London with a unique charm
Camber Sands
Camber Sands lives up to its name by delivering on the sand. Miles and miles of golden sand…
The beach at Camber Sands is known as one of the best beach days out from London for beachcombing, and you'll potentially find anything—from coins and jewellery to semi-precious stones and cuttlefish bones.
At the back of the sands, there are huge sand dunes. These are wide and steep in some places and great for sand surfing. The more traditional beach sports of windsurfing and kite-surfing are also popular in the area.
While facilities along most of the shore won't stretch to much more than a Calippo, the village of Camber itself offers a few family restaurants, chippies, and bars.
The nearby town of Rye is perfect for a spot of chic shopping as well, with several stylish galleries just a few minutes walk from the station.
Click here to see how you can get to Camber Sands from London.
Botany Bay
This attractive bay has golden sands and is dotted with the most beautiful white chalk cliffs.
Carved into some of the cliffs are smuggler's caves, and when the tide is out it's possible to climb up to see the chambers which hid the smugglers' infamous booty! (I see you laughing).
Low tide also reveals rock pools and fossils, so it's a great place to explore for kids and adults alike.
Botany Bay is a more than just a way to escape the noise of city life; it's so quiet, it's one of the best beach days out from London if you're looking to steer clear of some of the busier seaside resorts!
Click here to see how you can get to this tranquil haven from London.
Dungeness
The unique landscape of Dungeness has been described as 'where the wild west meets the post-apocalyptic'.
The eerily deserted expanse of shingle beach is dotted with old railway carriages, boats, and miscellaneous huts.
So if you're feeling arty and want somewhere to snap your next album cover, this is the place for you!
The nearby nuclear power station only adds to the intrigue, and despite its imposing presence, stunning wildflower meadows grow here.
Dungeness has been designated as a National Nature Reserve (NNR), Special Protection Area (SPA) and a Special Area of Conservation (SAC).
It is home to 600 species of plants, which is a third of all plants found in the UK, so gardening nuts will have a field day.
Dungeness also has a collection of lighthouses and a miniature steam railway that runs along the coast.
One of the best beach days out from London – there's definitely something for everyone here!
Click here to see how you can get to Dungeness from London.
Breaks away are so important
Wherever you decide to go, take the chance to treat yourself guilt-free.
It's well known that breaks away can improve your physical and mental health and reduce your stress levels—and we all need a little of that after lockdown!
Of course, the best way to remember your trip is to commemorate the occasion with photos. Photos that can transport you right back to that lovely place and time – something you'll treasure as your kids grow older and more interested in sleepovers with friends at the weekends rather than days out with the family!
The pandemic has taught us that you can't take anything for granted, so photos can help you treasure the here and now for years to come.
The joy of life is in the details
Breaks away remind us that joy is in the little things.
The best memories are often made when we're relaxed and spontaneous, focusing on ourselves and each other rather than worrying about having a camera out.
It's too often the case that we try so hard to document all the great moments we're having that someone ends up missing from the pictures themselves. It's either that or squash everyone into forced and awkward selfies!
Wouldn't it be lovely to have you all in the pictures for once? To capture the sweetest or funniest moments without having to pose for pictures?
These are the sort of moments that staged family portraits and selfies can never really capture, but fear not! There's still a way to make sure you have a permanent reminder of that smile, that joke, that crazy moment…
Sometimes the best moments are the unexpected ones, the jokes, the surprises, even the little mishaps! With those endearing moments in mind, Schryver Photo is offering a special Life's a Beach photography package, to help you capture your happiest and funniest memories forever.
With the Life's a Beach photo shoot special you just get to be yourselves and enjoy your day.
Take away the pressure and 'perfection' of posing for photos, and something magical happens…
You will actually get to see and relive those genuine moments, as you relax on the beach, see that incredible view for the first time, or watch the sun set together.
Or, equally likely, maybe it's the moment everyone collapses into laughter at something outrageous your kid comes out with, or your look of amused exasperation as they drag you hand in hand towards the ice-cream van for the third time that afternoon!
These are the fleeting, 'one-off', real life moments you never quite get in a staged picture. Trust me, as a mum and a photographer, I've tried!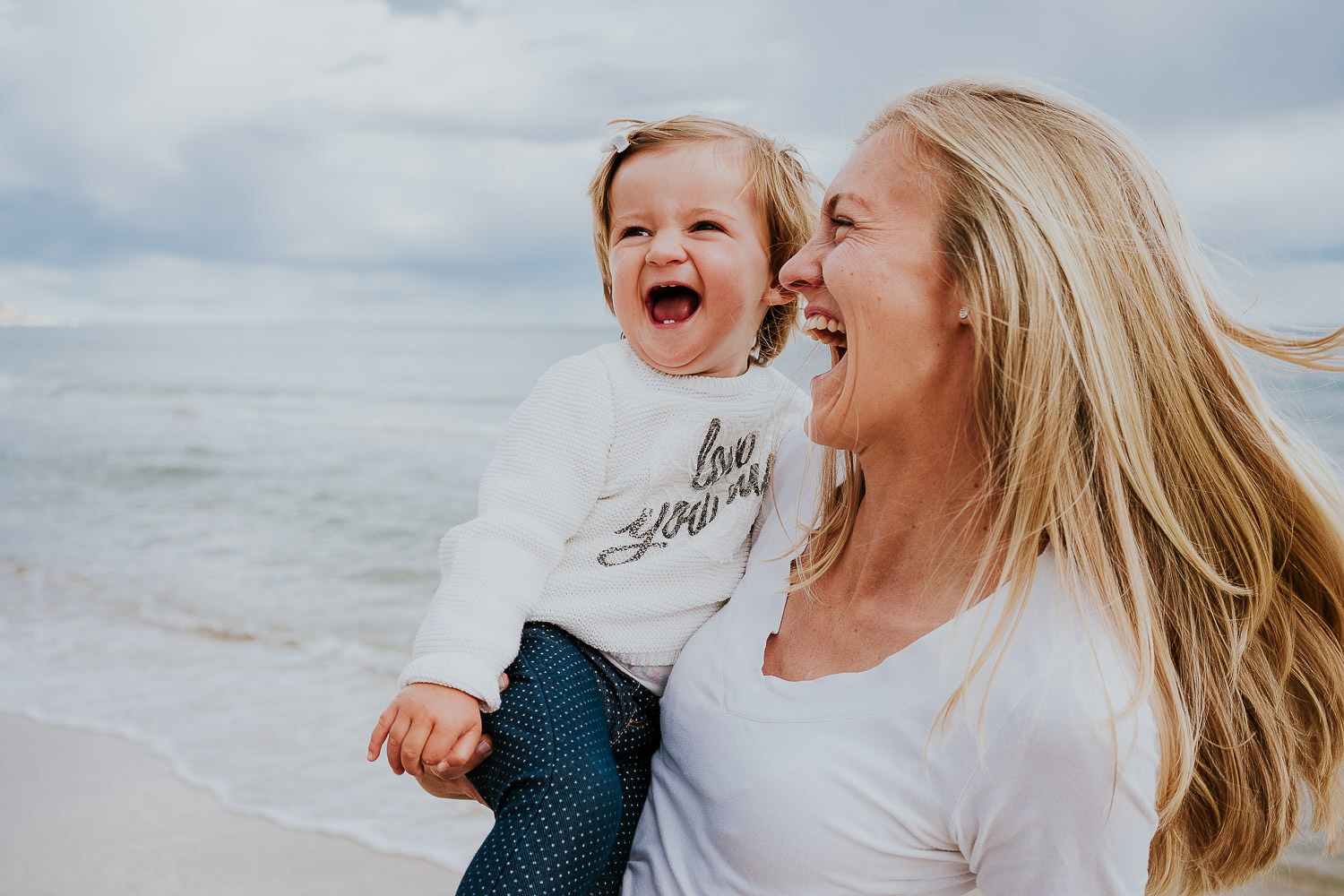 Put your precious memories in the hands of a professional
When it comes to photography, you can't put a price on experience.
The ability to adapt to changing situations, such as a toddler tantrum, or a change in weather, means that when you book me as your family photographer you'll come out of the experience with wonderful pictures whatever happens on the day…
Although my family photography business serves mostly London-based families, I actually live down in Kent near to the seaside, and so am ideally placed as your family photographer and local guide for your beach day out!
''Our family shoot day with Helen was fantastic and we were blown away with the end results. She put us at ease and helped us relax to get some really natural shots. We will treasure them always''
Rebecca Cahill Roots.
''We had an outdoor family shoot with Helen and it was phenomenal''
Marina Lussich.
A professional, 3 hour Life's a Beach photo documentary shoot of you all together would normally cost £950, yet to celebrate coming out of lockdown, for this summer only, it will be just £695.
Included in the package is a special keepsake Storybook Album of pictures worth £650, to help you cherish those happy, summer memories with your kids for years to come.
Physical photographs are the best to have
Physical photographs are something you can reach out and touch. Something you can sit down and share. And they will always bring happiness back to you.
A leading behavioural psychologist explains that we should pause to look back on our photos to boost happiness and lower stress levels.
I also highly recommend them for providing further evidence of hilarious stories.. especially if you have kids that will be too little to remember them!
Your storybook photograph album will give you joy for years to come…
It is a family heirloom that can be passed down the generations.
Availability
The Life's a Beach photography package is available in three of the locations for Best Beach Days Out From London in this guide: Margate, Folkestone, and Whitstable.
Arrangements can also be made to meet at St Pancras station in London if that works best for you. Taking the train down to the beach together gives us a wonderful opportunity to capture those little faces as they see the sea for the first time, plus you'll have me there ready as your lovely local guide from the minute you get there ;)
Likewise, if you fancy a photo shoot without the Storybook Album, just get in touch! I'm always happy to be flexible and find an option that works for you.
The one thing I would say is that you do need to join the waitlist below to be in with a chance of booking a shoot on a weekend date. Summer is well upon us now and my calendar is filling up fast.
Don't let the incredible moments of what will be, for many of us, our first proper getaway in nearly two years slip by undocumented!
Your unique, wonderful and 100% real family moments can be turned into the most incredible photos that you'll treasure for a lifetime.
Tiny feet on big steps. Small, sticky fingers on shiny pebbles. Warm, chubby cheeks smeared with ice-cream.
We don't get these days back.
But you can capture them forever by booking your Life's a Beach professional photo shoot with me today…
"No words of love and appreciation can truly describe the quality and beauty of your work. We are absolutely overwhelmed at how well you've captured our family in all the shots. Pure genius." Nisha & Kunal
How To Book
Fill in the form below to join the waitlist, and be the first to hear when dates are released (very soon)! By registering your interest there's no obligation to book of course, but you'll get first dibs on booking dates and all the info on how it all works.
There will be very limited availability on weekend dates, so do fill out the form for a chance to nab your spot.
Do you have a question about family photo shoots? Request A No-Obligation Call with me and we can chat!
Helen x