Natural and fun family photography at Whitstable beach, Kent
Welcome to my new and much improved website! I'll be blogging lots in the coming weeks (there's a ton to catch up on!). Here's my first family photography blog post, a fun early-morning shoot on Whitstable beach with the lovely Lanstone-Futcher family this summer..
This fun family photo shoot with Jude, Lucie and George took place on the beach at Whitstable, Kent, before school on a blustery July morning. I pretty much always shoot outdoors – it's so much more fun for all involved! The more relaxed and free the children are, the easier it is to capture their genuine expressions and unique personalities. For me it's all in the details – the wind blowing their hair across their face, the way they throw their head back when they laugh, the mischievous grin as they splash in the sea and soak their new shoes, and the way they gently hold a sibling's hand in theirs…..These are the things that are so easily forgotten as our children grow, and so the little details and genuine moments have become the focus of my photography, as opposed to countless posed shots complete with awkwardly forced grins!
Whitstable is a favourite location of mine – there's so much variety and I'm a sucker for the multi-colours of a beach hut or two! I work all over Kent and London, and occasionally further afield. I have my favourite spots for family sessions but also love it when a client asks me to shoot somewhere new.
I'd love to hear your ideas for great photo locations near you :)
Here's what lovely mum Michelle had to say!
"I instantly loved Helen when I met her, then when I saw examples of her work I knew I wanted a bit of her camera action… as soon as possible! I couldn't even wait for two of the boys in our brood to get home from their boarding school commitments (they are choristers at Canterbury Cathedral); I just booked a shoot for the other three. Helen suggested an early morning beach shoot: 'Let's meet at 7am on Whitstable beach.'
Seven a.m. ON A SCHOOL DAY, Imagine THAT!!?! Crazed? HELL, YEAH! Who gets to have a good time BEFORE school? Sounded fun to me.
We were hoping for a moody sunrise. We got clouds. And wind. And fresh air, and waves, and laughter, and energy. And we made some precious 'before school' memories. Helen was so brilliant with the children; they had fun. In fact, we all had fun. (And the children even got to school on time.)
More importantly, the photographs are even better than we'd hoped they would be – we were so happy that I've booked another shoot with Helen at the end of the summer, for all five of the children this time (I might even be brave enough to step in front of the lens myself!)."
So what's with the 7 a.m. start?! It's mainly for the light – in the summer the sun (when it decides to show it's face!) is directly above us in the sky for the majority of the day, casting a harsh light (and harsh, unflattering shadows to boot). The light is at it's most flattering just after sunrise and an hour or so before sunset (which of course is pretty late in the summer!), when the sun is sitting lower in the sky. Of course, on the day of this particular shoot, it was cloudy, so it would have made little difference what time we'd been shooting… although another reason to shoot early in the morning in the summer is that the beach is super-quiet, more so than in the evening.
The great news is that as we approach winter, the light is pretty much perfect at any time of day :) The reason (along with beautiful autumnal colours!) that this is probably my favourite time of year for family photo sessions!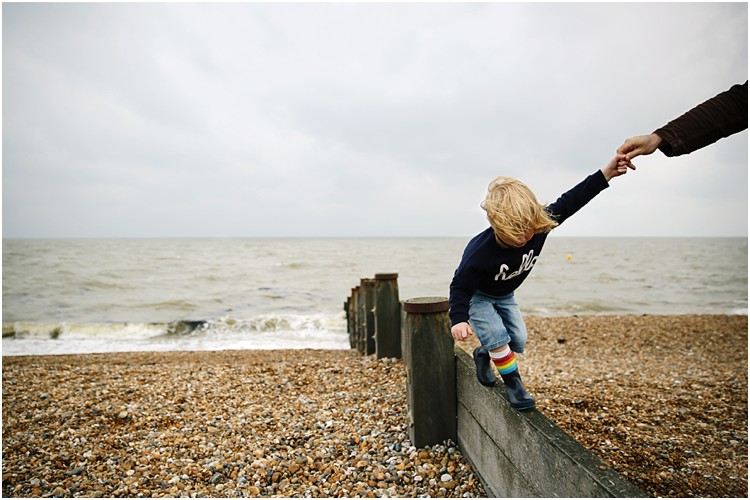 Read more about family photography here and check out the FAQs. Feel free to give me a call on 07841 457799 for a chat or to book your family photography session! You can also email me at helen@schryverphoto.com.
Hope you've enjoyed these pics – I'd love to hear your thoughts in the Comments section below!
Helen xx