What Is The Best Age For A Newborn Photo Shoot?
So you'd like to book a newborn photo shoot but have no idea how long that 'newborn' stage lasts exactly?! Some newborn photographers will put a two week or 10 day age limit on newborn photo sessions. I say there's no reason why you can't have baby's newborn photo shoot up to around three or four weeks old. It's never too late! Plus, life gets in the way. You may have had a bit of a stay in hospital after birth, and having a new baby at home is exhausting. Inviting a photographer round to take photos may be the last thing you feel like doing.
Fear not! Read on for my tips on the best age to have a newborn shoot. Plus how to book one when you have no idea what date baby will actually arrive. Let me put your mind at rest at how easy it is to have beautiful new family memories captured that will last a lifetime. Most parents really enjoy the experience, and it's much more relaxing and stress-free than you might think!
Babies Younger Than Two Weeks Old  (Where Possible!)
Typically, I do recommend scheduling your newborn baby photo shoot for around two weeks after your due date. The absolutely ideal time, for this newborn photographer at least, is between 7 and 1o days old. Babies at this age tend to be pretty chilled, curled up and sleepy still!
This age is great for capturing all those gorgeous curled-up sleeping shots, snuggles with parents, photos of baby feeding (if you want them) and close up shots of baby's eyelashes, lips and feet. This is also a great time to capture some beautiful photos of baby with their siblings. Baby won't be consciously smiling yet, but at even the earliest newborn photo shoots I've been known to capture at least one or two windy smiles!
This conversation on Mumsnet (font of all knowledge) suggests that only 5% of babies arrive on their due date. Around a third of the rest are likely to be early, and about two thirds arrive late. So it's a pretty safe bet, with a first baby at least, that your little one won't be in any huge rush to come out on time! So two weeks after your due date tends to work pretty well as a provisional date for your booking, given that baby is likely to be born a week or so late.
A quick note..
If you're looking for a studio photographer* for your newborn photo shoot, the ideal age is more like 5-12 days and rarely older. Studio newborn photography tends to be more about posed shots of baby. Think curled up in a basket/hammock/bucket or posed like a frog… These poses can only be achieved before baby's tiny bones fuse together and they're still really curled up and 'malleable'! This is a completely different style of newborn photography to what you see here and on the rest of my website. See this page for more info on when to have a posed newborn photo session.
*That's not me – I come to your own home for the photo shoot and don't do posed shots of baby, so I'm totally happy to do newborn sessions with slightly older babies. :)
My daughter Olivia and her newborn cousin Oliver, at just 5 days new! Awake throughout our quick half hour session. Check out all that hair.. <3
Such a chilled baby girl, she slept for most of her 2 hour session! 6 days old
A little windy smile from baby Marleen, 9 days old
Cute baby Beatrice at 10 days old, plenty of sleeping and wide awake shots from her 1.5 hour session
Baby Grayson at 13 days old – wide awake until we swaddled him and put the white noise on!
Older Babies
Babies older than two weeks are not quite so curled up and weeny any more! They also start to lose some of that gorgeous wrinkly skin and downy hair. Baby acne can appear from around two to three weeks old and cradle cap is common from a month or two old. Although none of these are reasons not to have your baby photographed, of course! (A very small amount of subtle retouching can work wonders on the odd bit of flaky skin or those little red spots).
Every baby is different and it is more than possible for a GOOD newborn photographer to get amazing shots of your new baby at three or four weeks old. In fact, no matter how late you get round to it, a photo session with baby is always a super idea, but if you can it's so lovely to get a few shots of your little one captured before they grow (super fast – you've been warned!) and are not so little any more.
Slightly older babies are likely to be more alert and aware of their surroundings. So photo sessions with older babies can result in more 'eyes open' shots than sleepy ones. Super cute! We're also a bit more likely to be able to capture a few windy (or perhaps even real!) smiles at this stage.
Eye contact from baby Toby at 18 days old
Baby Max – super alert at 5 and a half weeks old. He slept for some of the photo session, once he was swaddled.
Caesarean Births
If you know you're  going to be having a caesarean (or end up having one), you may be worried that your photographer will have you moving around lots, lifting baby, or standing/sitting in awkward, uncomfortable or downright painful positions. My photo sessions however are totally parent- and baby-led. I can capture beautiful shots of you with your baby in whatever position is comfortable for you, whether sitting, propped up on pillows or standing.
Most parents are happy for me to move baby around for photos myself, meaning that for shots of baby on their own you can just sit back with a cup of tea and watch the magic happen! ;) I've photographed over a hundred newborn babies and am a mum myself, so your little one is in safe hands.
If you've had a caesarean and are experiencing a particularly difficult recovery, then do of course think about delaying your photo session for a couple of weeks. It can wait!
Premature Births
For premature babies, I recommend planning the photo shoot around your baby's adjusted age (that's the age they would have been if born on their due date). So you'll book baby's photo shoot for around then, or a few weeks later. I allow up to 3 rather than 2 hours for photo shoots with premature babies, as they often suffer more with reflux and other issues, and can be harder to settle than other newborns.
Gorgeous baby boy Teddy at 16 weeks old (3 weeks adjusted age).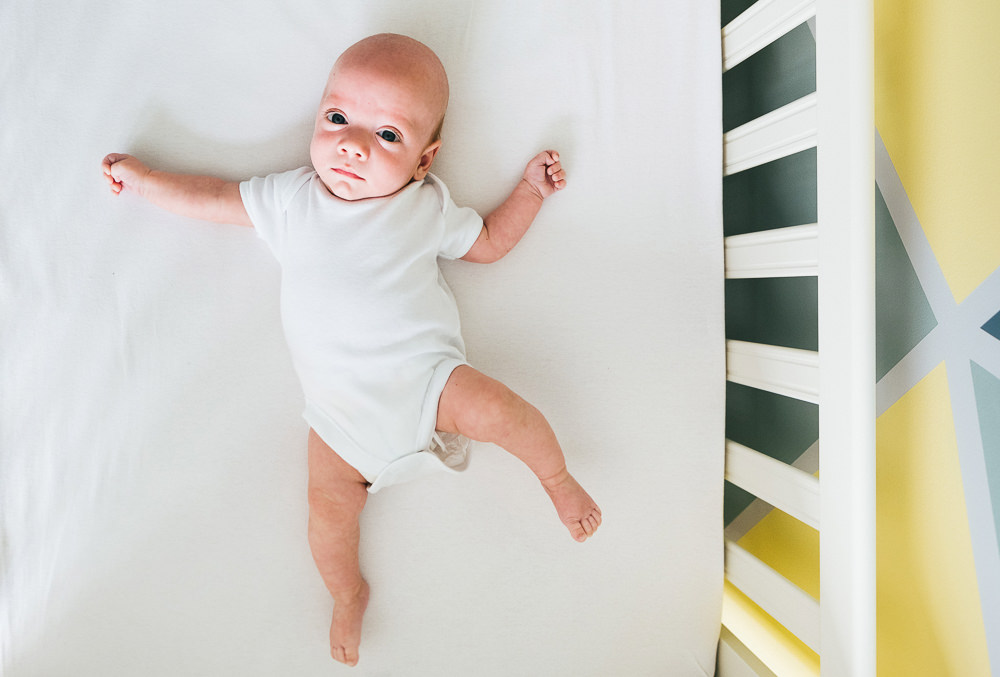 Cute little Jaxon at 20 weeks old (born 12 weeks premature).
Best Age for a Newborn Photo Shoot
So what's the best age for a newborn photo shoot? Where possible I recommend scheduling a session before baby is two weeks old, to capture him or her in all their wrinkly and scrunched-up newness. I'd also recommend ideally also scheduling a session for around 4 months, again at 8 months and perhaps at a year old too. Babies never again change as quite such a rapid rate as they do in that magical (and exhausting!) first year. It makes a wonderful keepsake to have all that changing and growing captured on camera.
Lots of my baby photography clients have fine art books made with a selection of photos from baby's first year – get in touch if you'd like more details on how to preserve your photos for future generations in this way.
I offer a great value First Year package for baby photography – this costs £450 for three photo sessions, plus £150 back in print credit to spend on your favourite photos of your baby.
Get in the photos yourselves!
Whenever you choose to have your newborn photo session, it's really important to me to capture photos of the parent(s) with baby, along with any siblings or pets where possible! You may not feel particularly photogenic just weeks after giving birth, but believe me it would be such a shame to miss out on capturing those all-important shots of you with your baby that your little one will just love to look back on in years to come.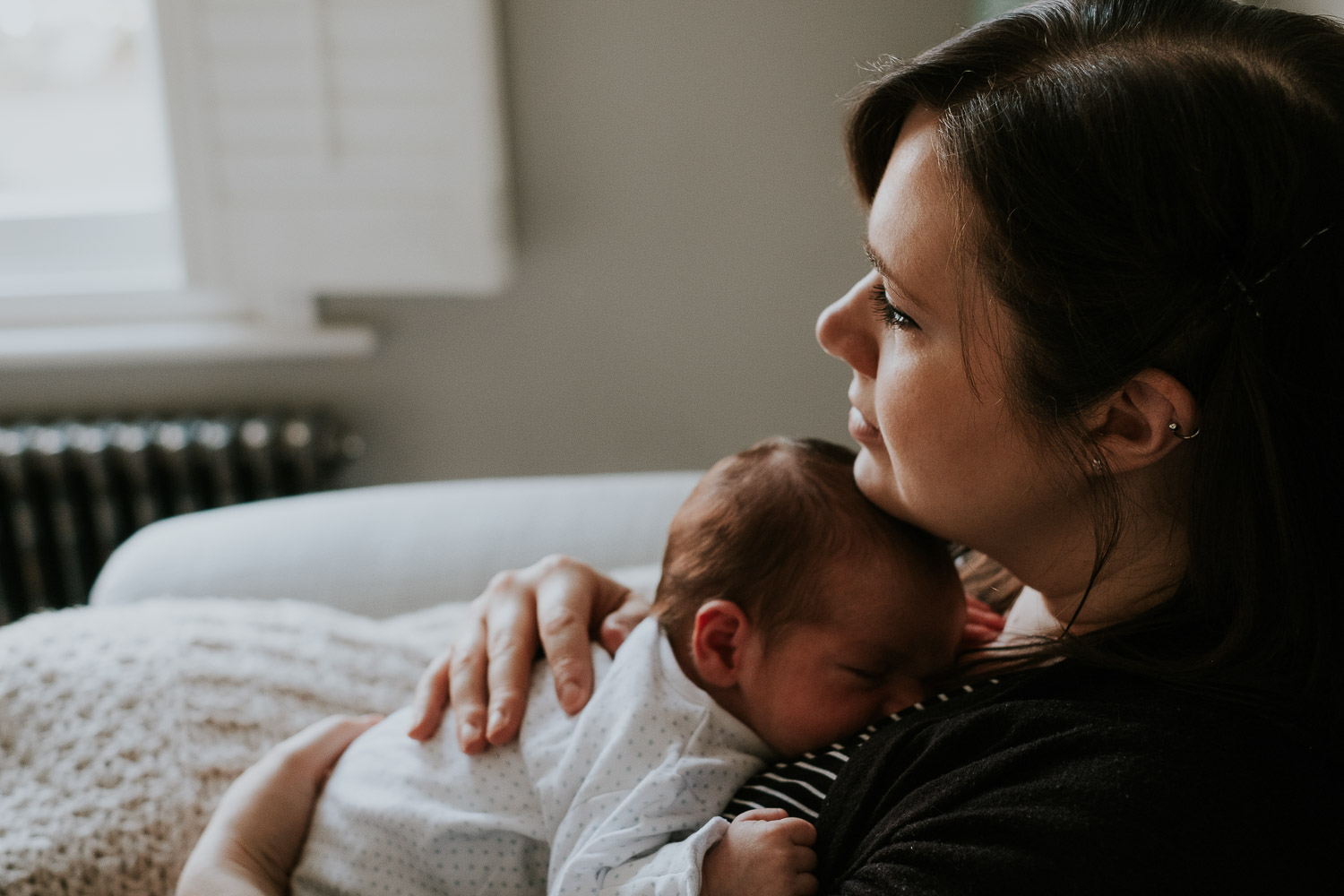 Book Your Newborn Photo Shoot
Contact me (Helen!) for more info or to book by filling out the form here. Alternatively you can call me on 07841 457799 or email helen@schryverphoto.com.
View more info on my newborn photography here or check out my pricing here.
PREV. ITEM
NEXT ITEM
READ COMMENTS -
6 COMMENTS