When it comes to capturing those first photos of you and your baby, there are a few options out there. Many photographers will offer you a studio setting for your Newborn shoot. This style of photography with lots of props and different outfits is some people's cup of tea. But my style is much more natural. I believe having a Newborn Photo Shoot at Home has a lot more to offer. Read on for my reasons why a Newborn Photo Shoot at home is best for you and for your baby! …
1. Think of the Faff!
Due to the timing of a Newborn shoot, (click here if you aren't sure when that should be!) parents are often only just getting in to the swing of things after their baby's arrival. Going to a studio means leaving the safe cocoon you have created at home in those early days. Even a simple trip out can be tricky to navigate in those first weeks. Getting all yours and baby's stuff ready, figuring out that new car seat / pram set up and trying to work around timings of your baby's routine. Having your Newborn Photo Shoot at home means less of the faff. You will get the best photos because it will be so much easier for you and baby to relax! Everything you need is around you and feeding and napping can continue as normal. Some of my favourite photos are of those very 'ordinary' moments of being a new parent!
2. Don't forget the Dog..
As some of you may know by now I am a bit of a rebel when it comes to being told "never work with children and animals!" Having a Newborn Photo Shoot at home means no-one gets left out – and that includes your furry family members. (Whether that's the cat, rabbit, or just a particularly hairy relative ;) )… If you have other young children it can also mean it's much easier for them to be involved too – again, cut the faff people!
3. Home is where the heart is
When you look back on photos of yourself in your childhood home, they can instantly transport you back there due to their setting. The curtains in the living room, the colour of the front door or the pictures on the walls in the background. Home settings help trigger a huge wash of nostalgia and memories. Your Newborn photographs should do the same for you, and for your little one in the future. Home is where you are living, loving and building all those precious memories with your new baby. Having your Newborn Photo Shoot at home means those real day to day moments can be captured. Whether it's your partner on 'burping duty' or you rocking them to sleep, those moments make the most beautiful photos because they are the reality of new parenthood.
4. Time to Relax
Having your Newborn Shoot at home means you can actually relax and enjoy the experience. Kick back on your own sofa whilst I get some shots of baby on their own. Top up your cup of tea (or wine!) as many times as you like! And if your little one decides to throw up everywhere you've always got changes of clothes to hand. Despite what you may think, there is NO need to tidy up before having your shoot. I can always move things around a bit and usually all that's needed is space on a bed with some natural light. Many of my photos might look as if they've been taken in super-tidy, grand houses or hotel rooms – I promise they weren't!
5. Making use of the Nursery
If you've worked hard creating a lovely new nursery for your baby, this can make a lovely setting for some of the photos. They may not be sleeping in it yet (!) but you can make the most of the space and the effort you've put in getting it ready. You and your little one can look back and remember their very first bedroom and all the memories that come with it from images of your Newborn Photo Shoot at home.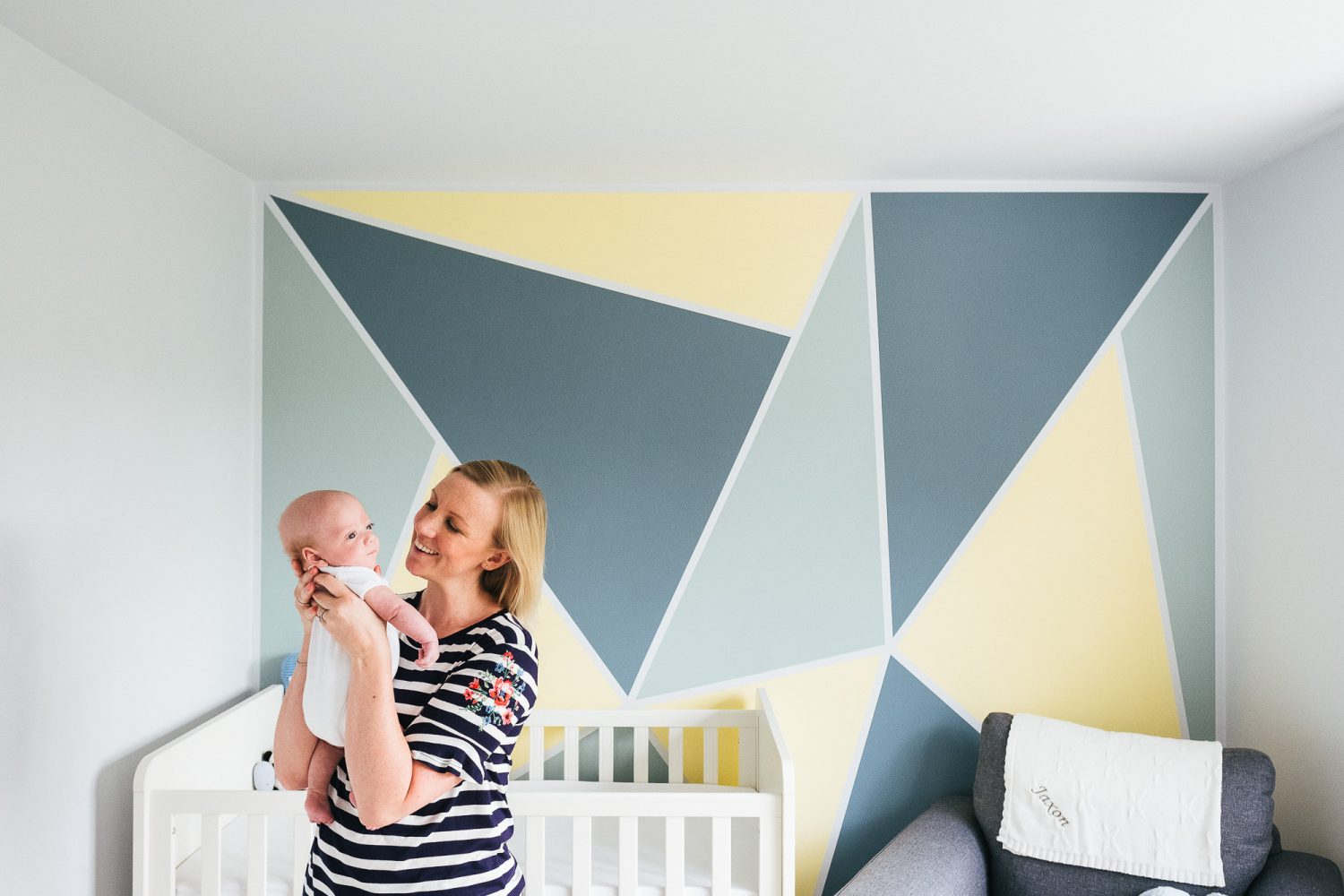 Booking your Newborn Photo Shoot at Home
To book your Newborn Photo Shoot, contact me here and we'll provisionally book a date around 10-14 days after your due date. We can always adjust this if needed when the time comes!
I hope you enjoy some of my favourite images from some Newborn Photo Shoots at home below. If you'd like to see more, check out these recent shoots with some gorgeous little ones!
London Newborn Shoot – Baby Gabriel
Tunbridge Wells Newborn Shoot – Baby Toby
And don't miss my Top Survival Tips for New Parents to get you prepared for those precious first weeks with your new arrival :)