The Most Common Newborn Photo Shoot FAQs
1. We've not had time to tidy at home – what rooms will we be using and do we need to clear space?
My newborn photo shoots take place at least mostly in the family's home, but there's no need to worry about tidying up or clearing any space for your newborn photo shoot. Think of me as a friend popping round for a cuppa and to meet your gorgeous new bundle of joy.. I just happen to have a camera with me! Towards the end of the shoot, we can also pop out for a quick coffee and get some good photos as we go, if you fancy getting out of the house.
You'll want to know which rooms we might be using during your newborn photo shoot, and the answer is.. it depends! When I arrive for your shoot, you can show me around your home and we'll decide together where will work best – for me, it mostly depends on which rooms have the most natural light. Bedrooms usually work well, as baby can be safely placed – nice and comfy! – on a bed.
Aside from that, wherever you tend to hang out as a family – whether that's in the kitchen or snuggled up on the sofa – will be perfect. I know things are hectic when you've just had a baby, so if you do have a room full of piles of dirty washing that you'd really prefer not to use, that's totally fine!
2. My baby doesn't really have a routine yet – will he/she need to be asleep for all or part of the shoot? What if he/she is very fussy throughout?!
You may have heard that it's best for baby to be asleep during your newborn photo shoot, but this really only applies to a much more posed style of newborn photography.
Baby's routine – if there even is one! – should continue as normal. Your newborn photo shoot with me is 100% baby-led and I allow plenty of time for breaks for feeding, nappy changes, cuddles etc.. Some of my favourite photos from each shoot are of those very ordinary 'in between' moments of being a new parent!
And rest assured, with 300+ family and newborn shoots under my belt, I'm super skilled at getting great photos of babies who:
a. won't be put down even for a second!
b. fuss a lot when they're tired
c. take over an hour per feed..
..and the list goes on.!
If you're happy to leave it to me, I also have some pretty well honed tricks of my own to settle newborn babies!
3. My partner's not keen on the idea of a photo shoot – how long will it take and what will he/she need to do?
I understand the very idea of a typical 'photo shoot' fills some people with horror..! A newborn photo shoot with me however is very different to the typical experience that you or your other half probably have in mind (that'll be something along the lines of dressing up in your best clothes, lots of forced smiles for the camera and awkward posing that just doesn't feel very 'you')! A newborn photo shoot with me is super relaxed, with zero posing or saying "cheese" required. It's a zero hassle experience all round.
We'll do a few shots of you all as a family, but I keep these photos as natural as possible. Think snuggling up on the sofa with a cup of tea together, talking or singing to baby, popping out to a local cafe with your favourite coffee, or reading a book to any older siblings. Aside from capturing those few photos of the whole family (which I do kind of insist on – they're so wonderful for your baby to be able to look back on when they're older!), you and your partner can be as involved – or not – as they like.
4. I'm not feeling I look my best at the moment – what's the best thing to wear for the shoot?
I know you're not feeling particularly 'photo ready' so soon after giving birth. I am well practised in photographing new mums in a sensitive and flattering way (it's all about those angles!). Clothing wise, please make sure you're comfortable as a priority! I think lovely casual, loose dresses or tops look gorgeous for a newborn photo shoot. I generally recommend staying away from solid bright red/pink or black clothing.
What should baby wear? We'll discuss what will be most suitable during your pre-shoot zoom consultation, but generally I recommend a couple of vests (short or long-sleeved) and sleepsuits.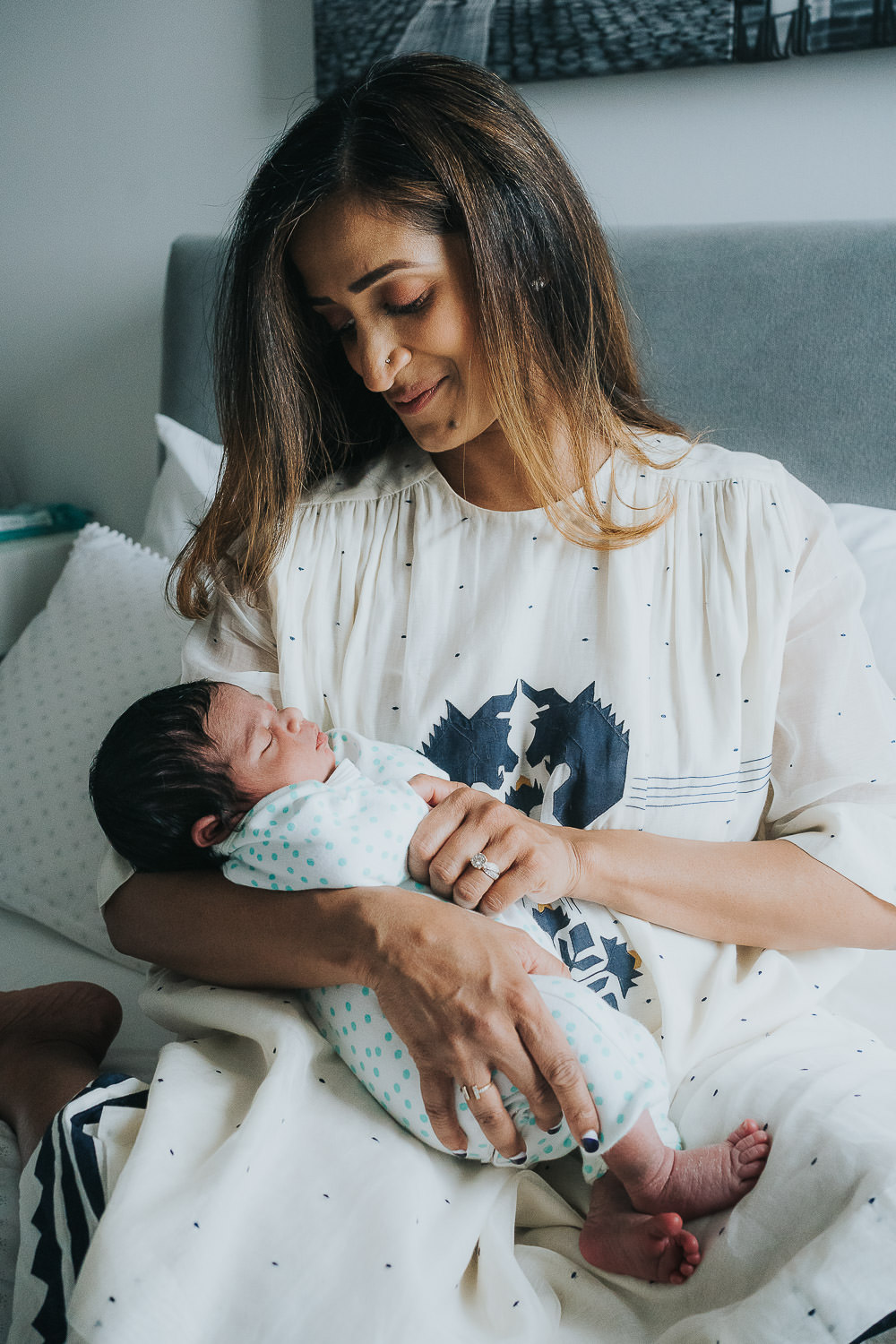 5. We have a toddler to take care of too.. how does that work?!
Your toddler will be involved in lots of the photos, and aside from that they can 'help' me take photos of baby (they usually LOVE this). Have lots of snacks to hand too!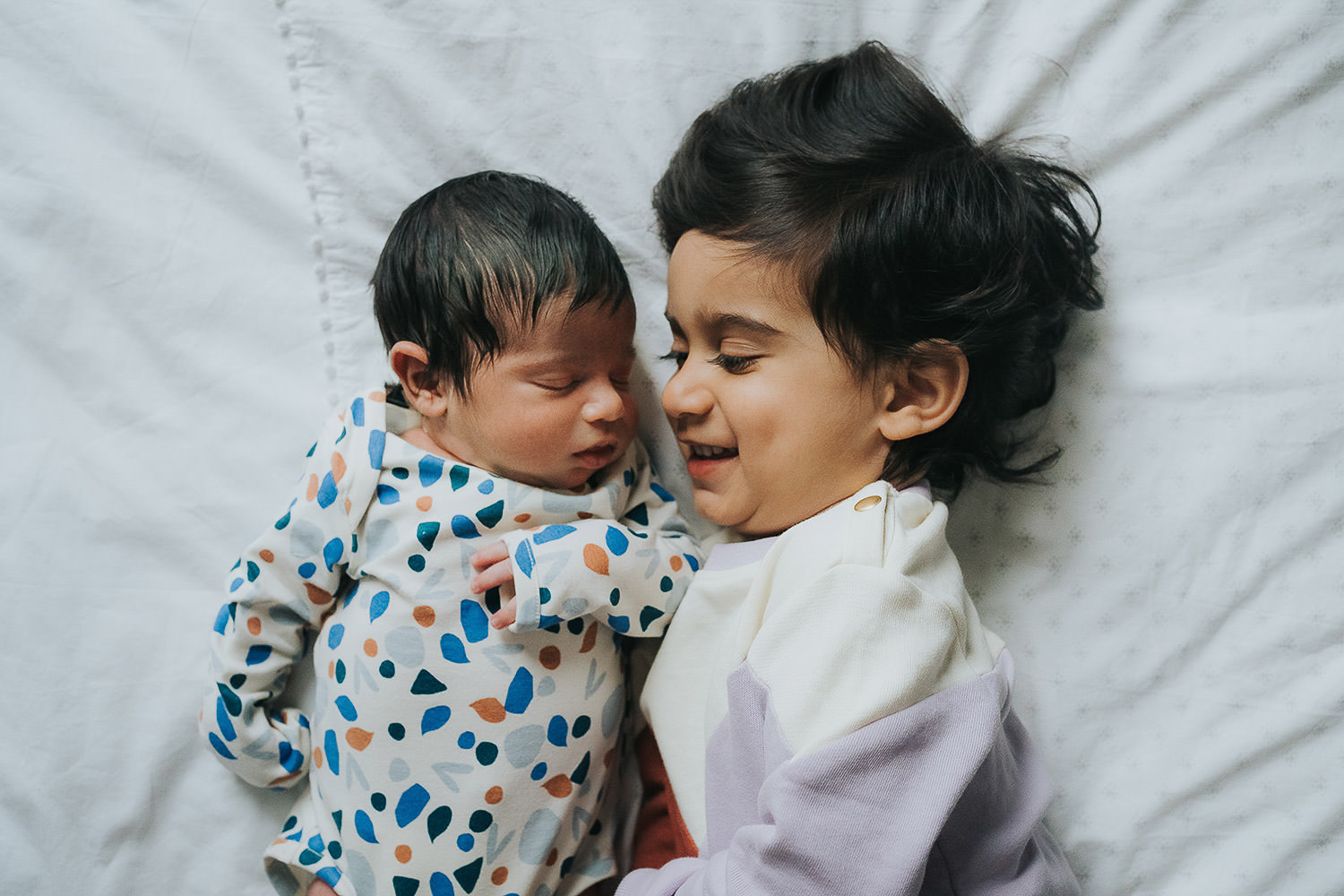 Do you have any questions on Newborn Photo Shoots that aren't covered here? Schedule A Call Or Whatsapp Message Chat with me and you can ask away!
P.S. Wondering when is the best time to schedule your newborn photo shoot? Find out here!
What Is The Best Age For Newborn Photos