Maternity Photo Shoot in Kent
I'm really excited to share a new Maternity Photo Shoot with you today in my childhood village of Godmersham, Kent. Georgia and Paul were expecting their baby girl any day, so wanted a Maternity Photographer in Kent to help them remember this special time. Paul's daughter Caitlin and the family dog Newt also took part, creating some beautiful shots in the Spring countryside.
When to have a Maternity Shoot
I have known Georgia since she was a baby herself so this was a particularly exciting shoot for me to book – if also a little scary! I always recommend 34-36 weeks as the best time for a maternity shoot. Your beautiful bump will be well and truly showing, but with less risk of missing out due to an early arrival! Click here for more advice on when to book a Maternity Photographer in Kent.
Booking a Maternity Photographer in Kent
I always advise choosing a location you feel comfortable with for your Maternity Shoot. Being outdoors makes for some beautifully lit and natural photographs. If there are kids and dogs joining in you can see outdoors is definitely best!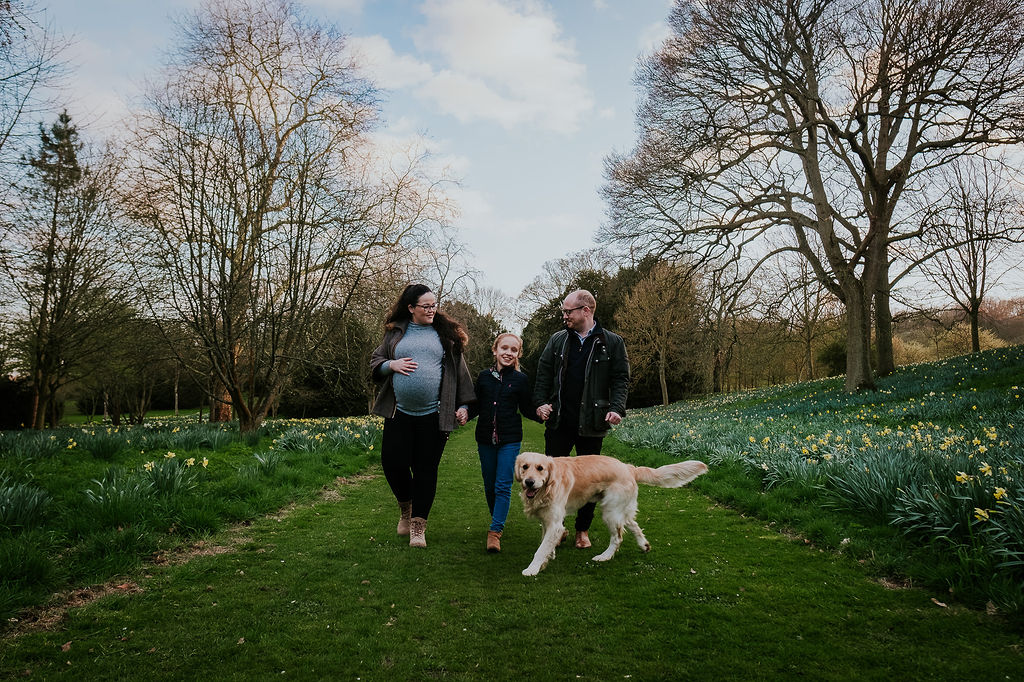 Maternity Shoots in Kent and London
Georgia said…"We are absolutely delighted with the photos Helen took for our maternity shoot. A fantastic way to look back and remember and show our baby one day as well. The shoot was relaxed and natural and didn't feel staged at all. Helen made us laugh throughout and even managed to get our 18 month old puppy to cooperate, to get some amazing images of all five of us (including bump)!"
I offer a few options as a Maternity Photographer in Kent. Packages can include a newborn photo shoot once little one arrives, and/or a further shoot when they're 6 months or a year old. The benefit of a package means lots of lovely print credit (as a gift from me!) to spend on your finished photos!
If you'd like to arrange your own maternity photo shoot you can get in touch here.