We all love a bit of travel inspo right?
Daydreaming about stunning hotels, golden sands and turquoise oceans? Sipping a glass of wine whilst scrolling holiday destinations and imagining (wishing!) ourselves away?
I know I love nothing more than a bit of holiday planning and researching, and all the better if there are some gorgeous pics to drool over too!
So, why not take a moment to sit down, relax and let me take you around the world as I reminisce about some of the incredible locations that I've been lucky enough to visit for family vacation photo shoots recently.
Get ready for some serious travel inspo…
Family Vacation Photo Shoots
Nice, France
I travelled for one of my family vacation photo shoots – this one with a father and son – at the stunning Four Seasons Grand Hotel Hotel du Cap Ferrat near Nice last year. It was so seriously incredible, I couldn't resist staying a few extra days! It's been quite the go-to chic hotel on the Côte d'Azur for over a century – with previous guests including everyone from Elizabeth Taylor to Winston Churchill.
Perched high up on a cliff in Saint-Jean Cap Ferrat, the views across the Med are breath-taking and the sprawling grounds are just made for family vacation photo shoots! Don't miss the hotel's beautiful pools, little sports cars especially for kids and amazing facilities to keep the entire family entertained – combined with a serious touch of glamour and luxury of course!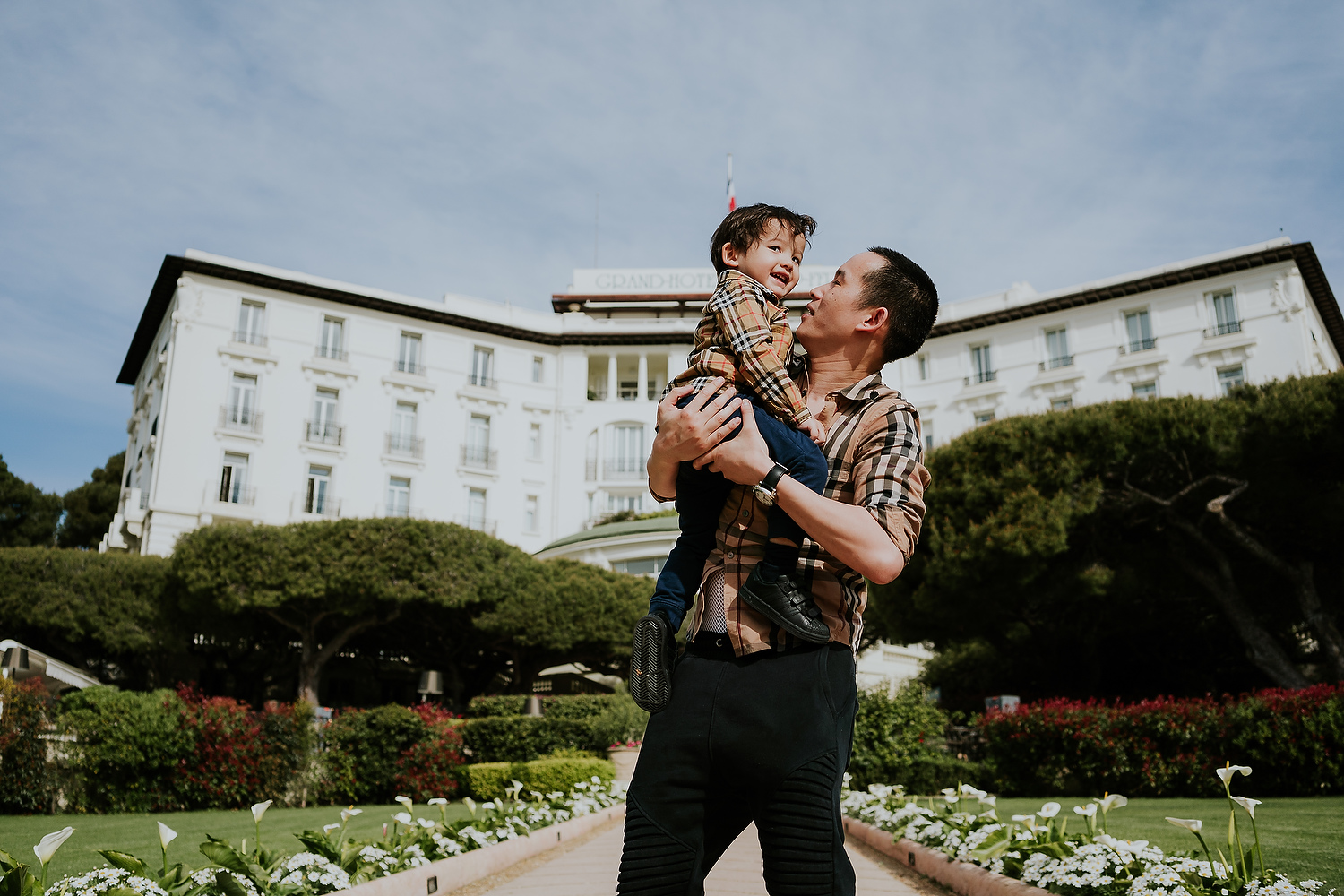 Marbella, Spain
In 2021, I travelled to Marbella with a lovely family to capture part of their summer vacation, spending a day with them at their hotel. They were staying at the Anantara Villa Padierna Palace Resort which I was excited to experience – and well WOW, it did not disappoint!
An elegant sanctuary nestled in the hills of Andalusia, the jaw-dropping villa is all pink stone, infinity pools and picturesque columns and makes for the dreamiest back drop to family vacation photo shoots!
A real sanctuary for grown-ups combined with amazing family facilities meant that there was something for everyone – and even though I only captured a glimpse of what was on offer there, I could tell it was a truly special destination and I cannot wait to go back. (And yes, I did manage to sneak in a dip in that incredible pool!).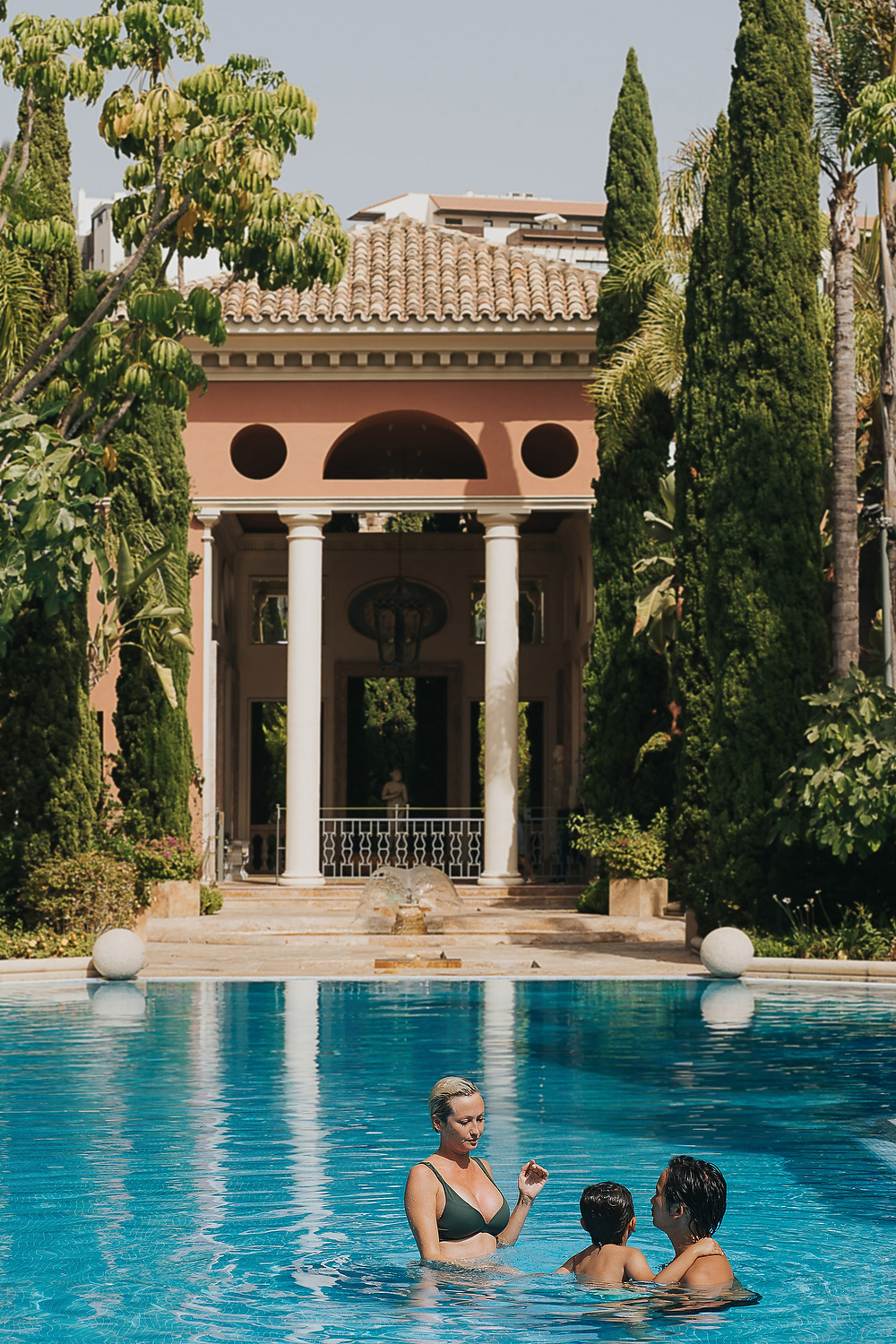 Dubai, UAE
Where else would we stay in Dubai than the incredible Atlantis the Palm? This Dubai icon is the ultimate holiday destination for families and its world-famous architecture and skyline made for some pretty striking photos on my latest shoot there. It's so beautifully designed, has world-class dining and wellness facilities and absolutely delivers on the family front too with everything from dolphin experiences to aqua parks to dedicated baby sitting services and luxury kids clubs. You will literally be spoilt for choice.
I had such a great time capturing these perfect family moments set against the mesmerising backdrop of this outstanding hotel, nestled between the calm turquoise waters of the Arabian Gulf and the majestic Dubai skyline. I can't wait to do more family vacation photo shoots here!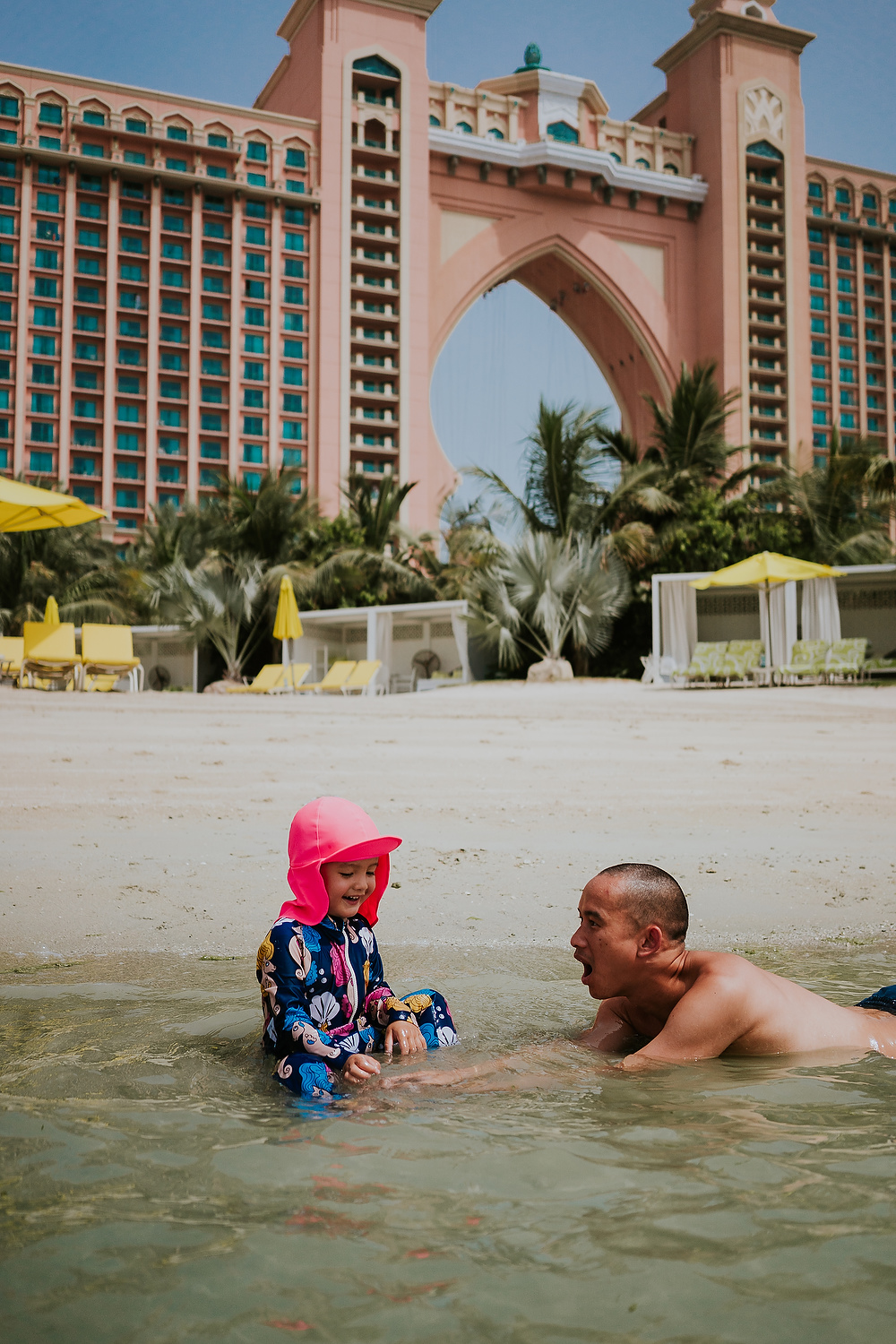 So, family vacation photo shoots – what do you need to know?
Capturing the extraordinary within the ordinary is, to me, the true value of family photography.
The quieter moments that can be easily forgotten – a little hand slipping into your own, a head gently resting on your shoulder, the feeling of wrapping up their tired little bodies in a big soft towel… These are the moments. The magic. The things that you'll want to remember.
There is so, so much beauty in the Every Day. In the little moments that happen in between the big moments – and this is what I try to capture in all of my family shoots, whether at home or on vacation.
Childhood is fleeting. Whilst the days can be long, the years are fast and before you know it, those daily occurrences will be memories and you'll be forever grateful that they've been captured for you to treasure always.
And the vacation moments are quite often the most special of all. Hazy golden hours, sun-kissed skin, joyful faces, stunning locations – but most of all, care-free, relaxed families spending quality time together…it doesn't get much better than that.
Right, let me fill you in on the whys, wheres and hows of family vacation photo shoots so you have all the info…
WHY? Whilst you might not have thought about it before, your vacation is actually the ideal time for a photoshoot – everyone is relaxed to the max with no pressing meetings or school runs or time constraints – everyone is happy, chill and more than likely looking tanned, glow-y and gorge!
WHERE? Vacation Shoots are available worldwide (and year-round) so there are literally no limits to when and how far I will travel to capture your beautiful family memories. The world is your oyster, and I cannot wait to explore it with you! (Oh, and in terms of travel expenses, if it's in the UK, or if I have multiple shoots in the same location, there's no additional travel expenses or fees 😊) Vacation shoots are also available in London for those visiting from abroad. Watch this space for a blog about this very soon!
HOW? My Vacation shoots are ALWAYS very relaxed and child-led – it's all about having fun, connecting as a family, and enjoying the moment as I snap away in the background – there's absolutely no staging, no posing and zero pressure. Shoots can be booked in a variety of session lengths – or you can chat to me about your bespoke requirements and any longer stays – I'm super flexible and will always try to accommodate your requests and timings.
Phew, I think that's it! I hope these dreamy destinations have inspired you to book your next getaway. Do get in touch if you'd like to chat more about family vacation photo shoots – I can't wait to capture your families' precious moments and memories – and tick some more incredible locations off my bucket list too of course!
Enquire about Family Vacation Photo Shoots
Safe Travels!
Helen X