How To Photograph Your Newborn Baby
{ Kent Newborn Baby Photographer }
As a Kent Newborn Baby Photographer (I also cover most of London too!), I've photographed oodles of scrummy bundles of joy! Today I'm going to share with you some of my top tips for photographing your own newborn baby at home. There are some essential newborn baby photos that sadly you'll never be able to photograph yourself as a parent (that would be photos with yourself in them of course!). I of course recommend hiring a professional photographer if you can, to take these for you. However you will of course want to take tons of photos yourself of your lovely new baby. That's where I hope my tips will come in handy!
Safety
Let's clear this up first! We're not talking about recreating those newborn photos you see where baby is suspended from a branch, wrapped in a piece of fabric, or sort of sat up in that weird froggy position which was popular a few years ago.. This style of newborn photography relies heavily on compositing images together in post-production. That is, a newborn baby was not in fact hung perilously from a branch in a photography studio, but laying on a nice comfy cushion with the branch (and the space underneath it!) added in later in Photoshop. So, you know, don't try any of that at home! To be honest that's all becoming a bit dated nowadays anyway. There's a definite move towards more natural, sweet and authentic newborn baby photography, shot at home rather than in a studio.
Without further ado, here are my tips for photographing your newborn baby at home!
(Check out the pics under each tip for a few examples of my own work as a Kent Newborn Baby Photographer).
1). Include baby's environment – your home – in the photos
I just love photographing babies in their own home. It gives such a personal touch to your newborn baby photographs! Thinking ahead to that not-so-distant day in the future when your newborn baby is suddenly old enough to want to look back on their baby pics (yep it'll go super quick!), half the nostalgia trip is seeing what 'home' looked like then – the colours their nursery was decorated in, the stacks of gifts and cards that they were given during their first few days in the world.. The likelihood is that it'll all look hideously uncool in ten years time of course, but that's half the fun ;)

2). Photograph the little details
Baby's teeny fingernails, toes, ears.. these little details will never be quite so little ever again, so capture them on camera now! Details I love to photograph include hands, feet, lips, ears, chubby thighs, belly button (whether cord stump still attached or not..!), and that downy mop of hair (yup, including that weird bald patch they get at the back of the head!).
3). Keep it real!
We've all seen those pics of newborn babies sound asleep and angelic-looking. It's not really that representative of what a newborn baby is reeeeally like, is it?! Some of my favourite newborn baby photographs tell a bit more of the real story. Whether it's a photo of baby mid-yawn (or mid-wail!), or of their weird 'I'm in the process of filling my nappy and concentrating HARD' face that you grow to know so well! Photograph all the weirdness, all the ups and downs of caring for your new bundle of joy, and all the 'normal'. That'll be the feeding/changing/burping routines that become your life. (That is until the next stage comes around and you're picking mushed up broccoli out of the carpet and chasing your little rascal around your home..).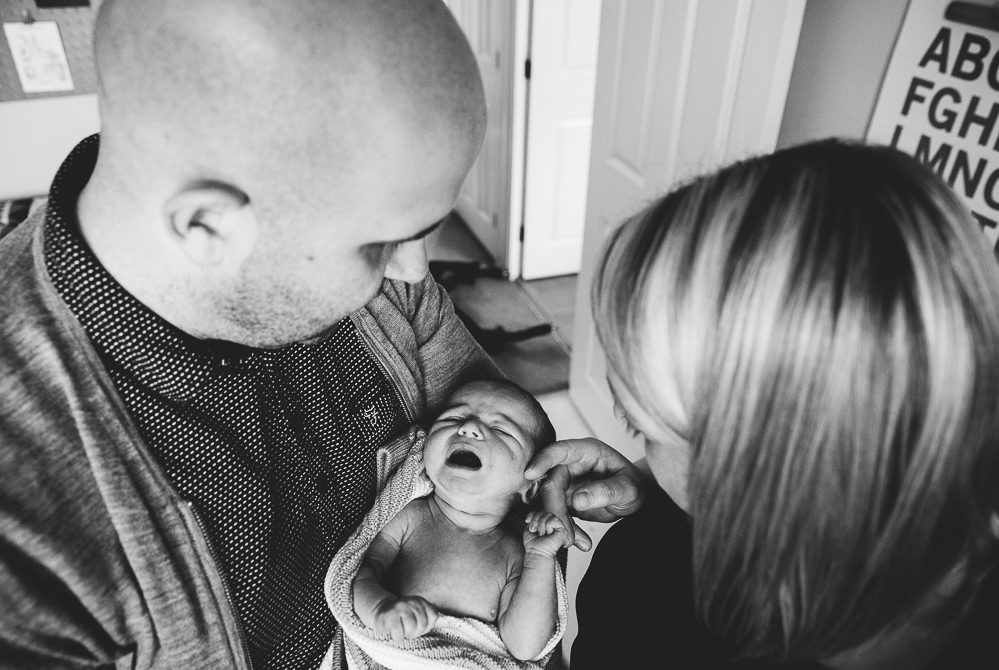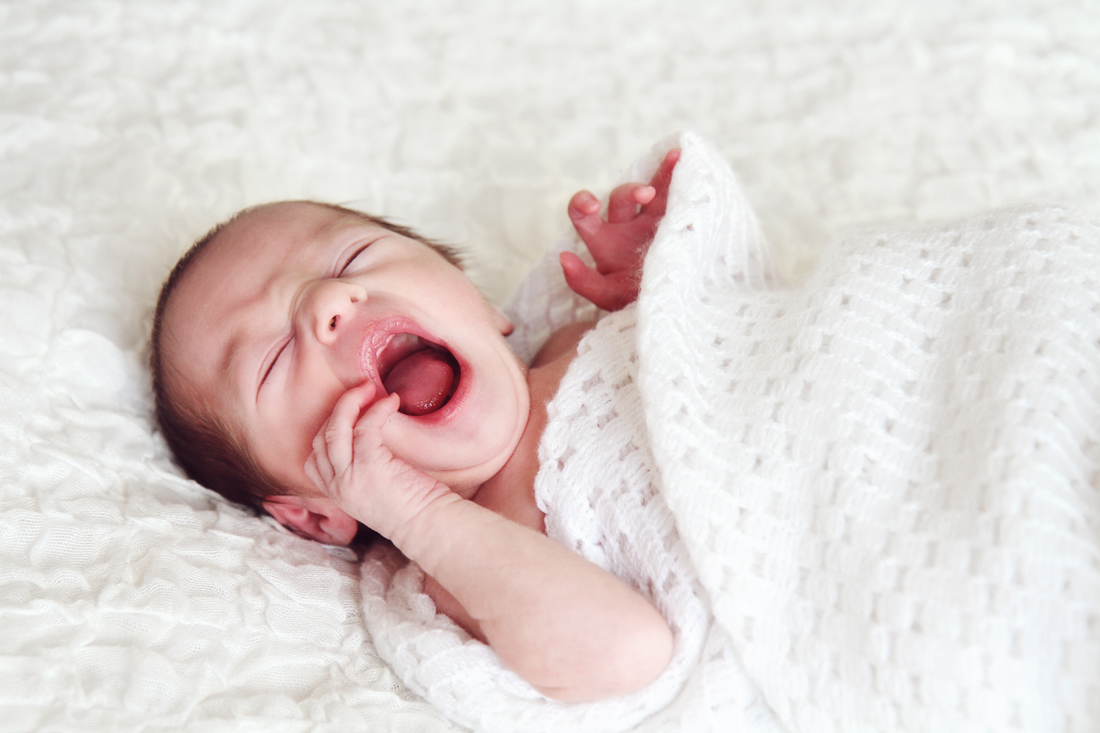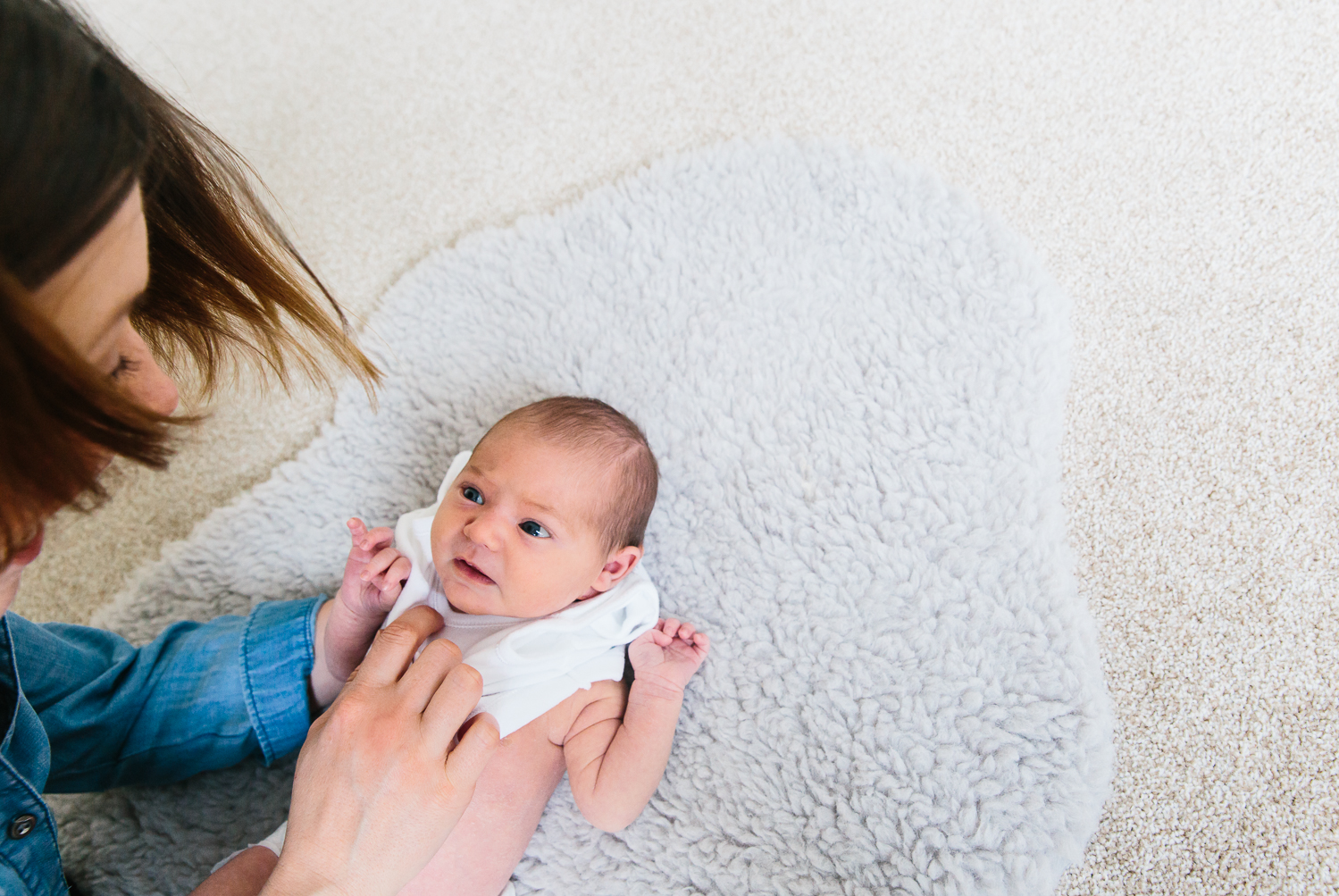 4). Include YOURSELVES in the photos!
I can't stress this point enough really! Please please please get in the photo yourself sometimes! Perfect example – I have very few photos of myself with my daughter when she was a baby. Really, I could count them on one hand. I have no doubt I probably shied away from having my photo taken at the time. I felt fat, unattractive (because SO TIRED!), etc etc.. But I SO wish I'd made the effort and investment in having a photographer come and take some pics of us when Olivia was tiny. I wasn't actually a photographer yet by that point (well not professionally anyway), so I don't suppose it really occurred to me as something I ought to take the time out to do! I totally regret it now. This applies to both mums and dads of course. So really – whether you get your partner or a friend to take some simple portraits of you with your new baby, or hire a professional to come and take some photos of you as a family, make sure you get in the picture somehow!
5). Oh, and get siblings, pets and Grandma involved while you're at it..
Snap the other family members with your new baby too! Whether that's siblings, grandma, or pets! As a professional newborn photographer I always encourage ALL family members to be involved in the shoot, furry or otherwise. If Grandma (furry or otherwise.;)), Auntie, best friend or whoever happens to be popping round then all the better. They can get involved too :)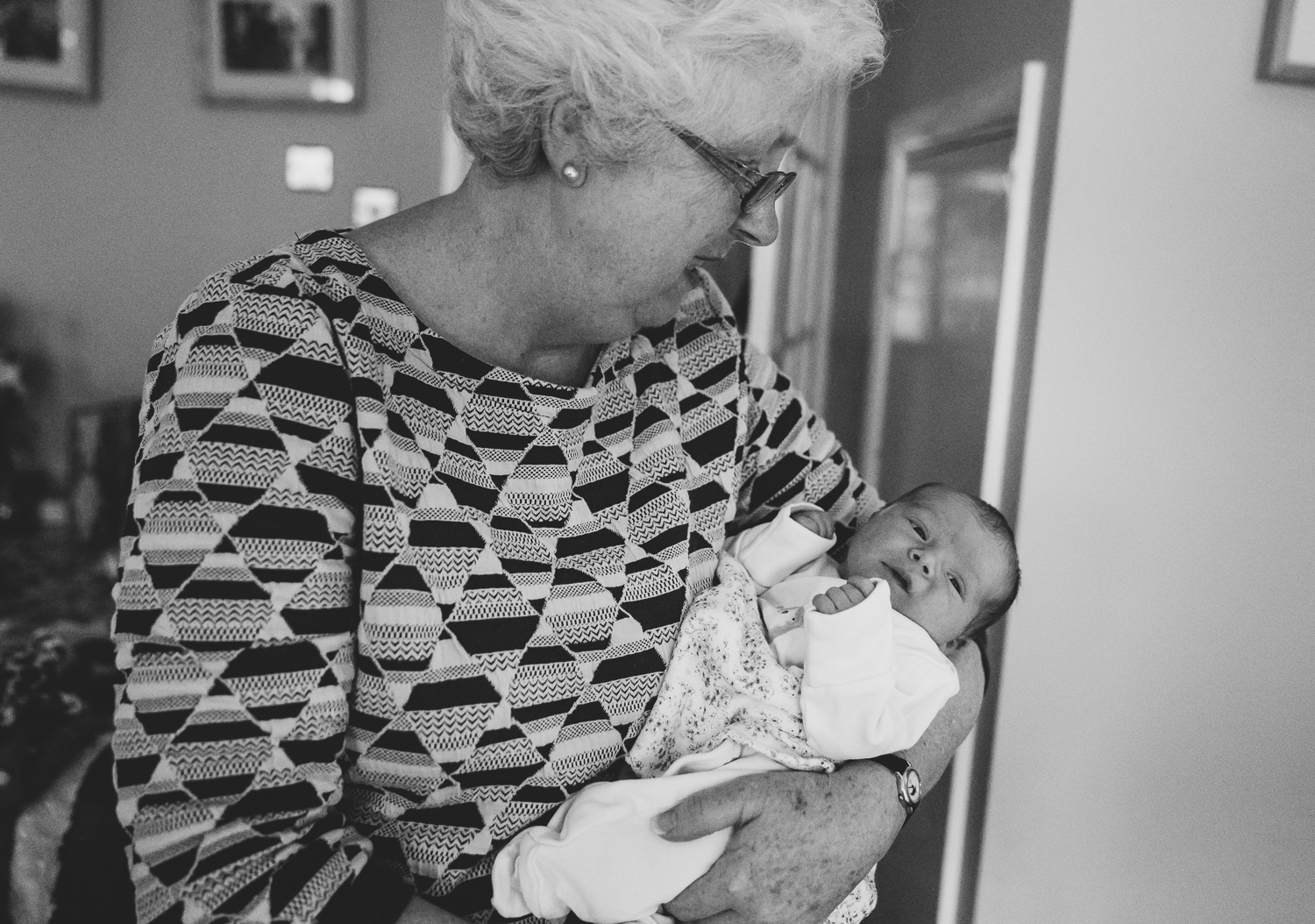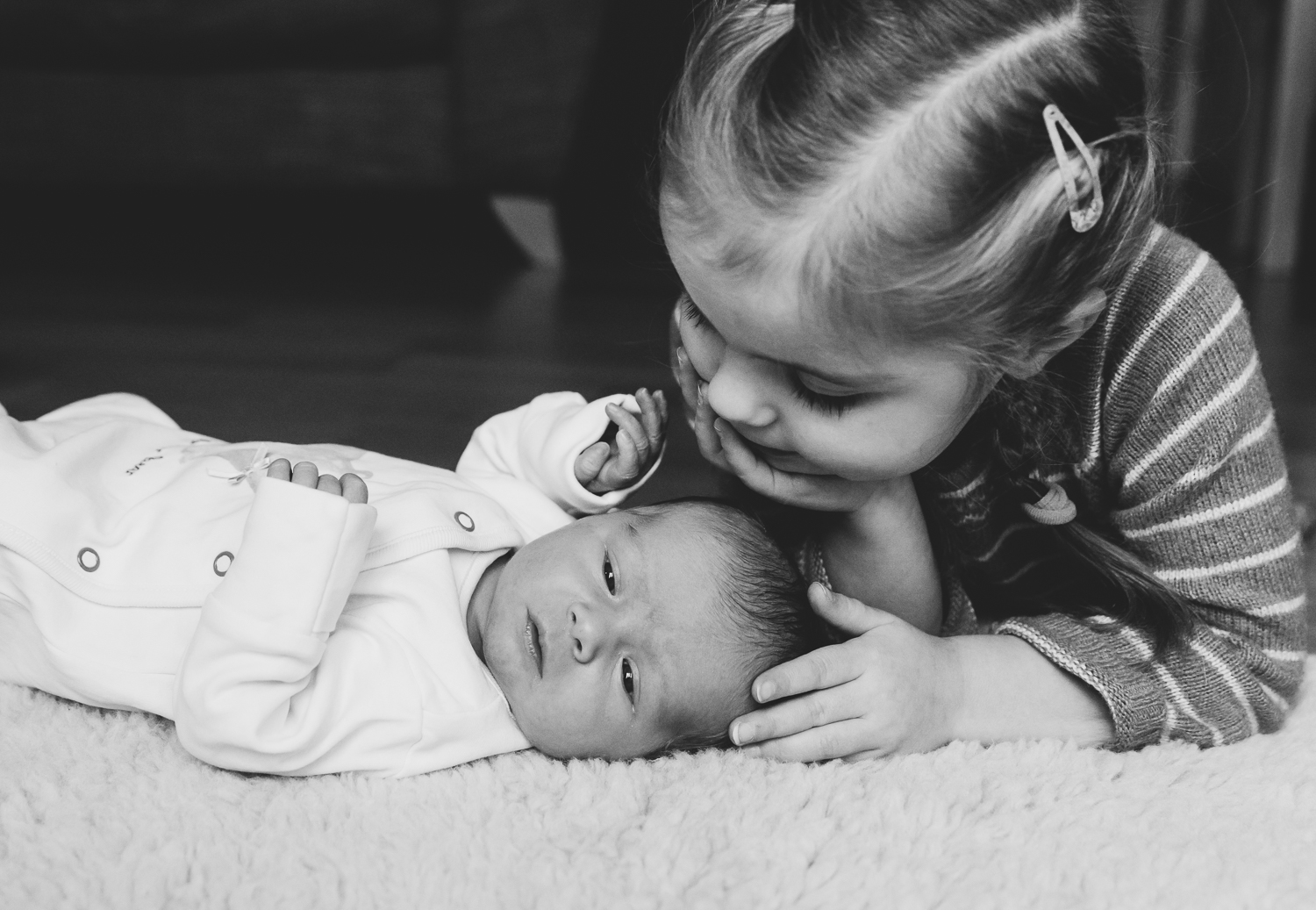 Perhaps you're looking for a Kent Newborn Baby Photographer? If you'd like to book me for a newborn baby photo shoot in your home then give me a call on 07841457799 or email helen@schryverphoto.com for more details. The session fee is just £95, for up to a shoot of up to 2 hours in your home.
Vouchers are available to purchase as gifts, in any value. I can even set up your own 'gifting' page on my website – if family or friends want to buy you something to celebrate the birth of your baby, you can direct them there to gift an amount towards your photo shoot (or a framed print, photo book, etc..).
I allow plenty of time during a newborn baby photo shoot for breaks for feeding, nappy changes and cups of tea! The photo shoot is really relaxed. No need to worry about preparing anything for the shoot and I promise you really don't need to hoover for me..! No awkward posing or saying "cheese!" either!
I really hope those tips will be of use! Let me know if you've put them into practise! Do get in touch or leave a comment below if you have any questions :)
Helen xoxo
PREV. ITEM
NEXT ITEM
READ COMMENTS -
0 COMMENTS