London Family Photos
When deciding on a location for your London family photos, it can be tempting to head straight for one of the many (many!) parks. Natural scenery can make for a great setting for your photo shoot. For this reason many photographers will only use parks for your London family photos. I'm going to share with you a few reasons why I prefer to branch out to the streets for a more unique family shoot.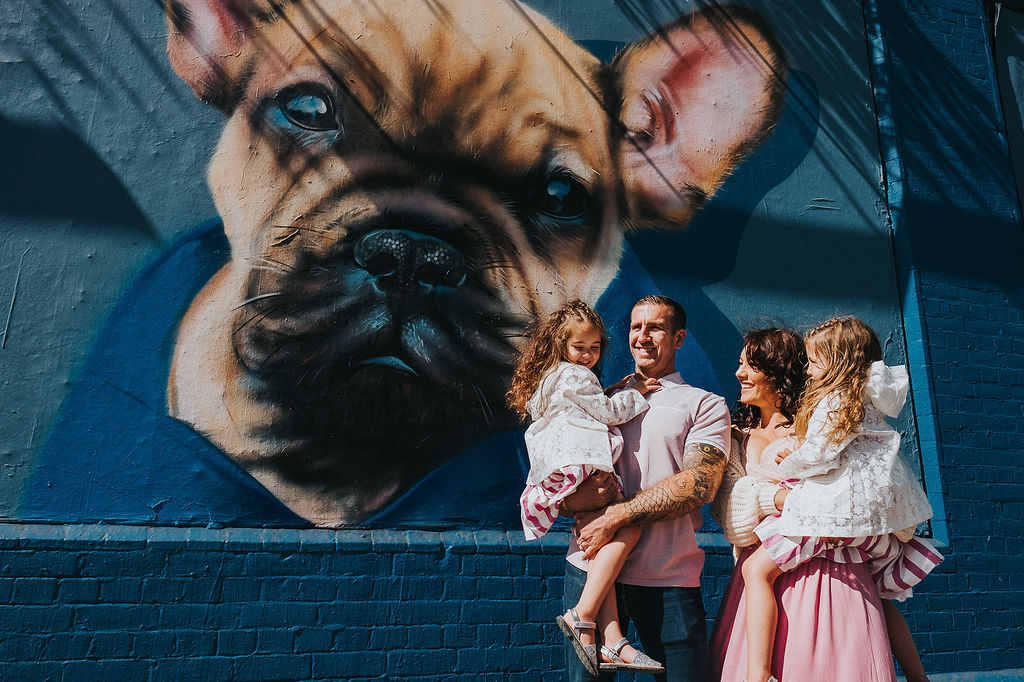 Not Everyone Looks Good in Green
Capturing some of your London family photos in a park can be ideal – especially if the shoot is teamed with an activity that your kids enjoy. Playing frisbee or running around the playground allows me to capture some great natural shots of your kids at their happiest. But be aware that the choice of park can become unimportant, as photos in these settings can make the location difficult to decipher from any other park! On a sunny day, grass can also cast an unattractive green light onto people's faces , which doesn't suit everybody as well as it does the Grinch ;)
Urban Landscapes have more Variety
Locations like Shoreditch and Peckham have offered some amazing Street Art and Mural backdrops for London family photos that I've taken. The range of textures and colours that you find in London streets can provide a much more 'interesting' setting. Even simple brick walls, steps, arches and tiled areas can add a lot more interest to your London family photos.
Home is where the Heart is!
Don't be afraid to keep it simple when thinking of locations for your family shoot. Some of my favourite London family photos have captured those 'every-day' activities that kids actually enjoy way more than we realise! Whether it's riding the bus, walking the dog or just strolling round your local London neighbourhood, you are guaranteed to get some great natural shots.
Seasonal London Family Photos
Autumnal colours make the park a great choice for your shoot during those colder months, and don't be afraid to wrap up warm where you need to! In fact, if it's not too sunny then the park can be a great choice any time of year. But you certainly don't need to think it is your only option for your London family photos. Choose a location that is easy and enjoyable for you and your kids, and you can't go wrong!
My photo session experience is a relaxed and fun one – there's no posing or saying "cheese!" required and little ones have a total blast! Bookings are available at weekends year round, but be aware that Summer is a popular time for family shoots, so if you're thinking about booking, contact me here now to avoid disappointment!
For more of my top tips for your family shoot, check out my blog '5 Reasons You Shouldn't Wear Matching Outfits for your Family Photos' !
Let me know your favourite London locations for a family shoot below!