I've got another London family shoot on the blog for you today, and in such a cool location! Parents Anastasia and Dino chose this amazing Tower Bridge Location to capture some awesome London family photographs with their adorable toddler Agapi.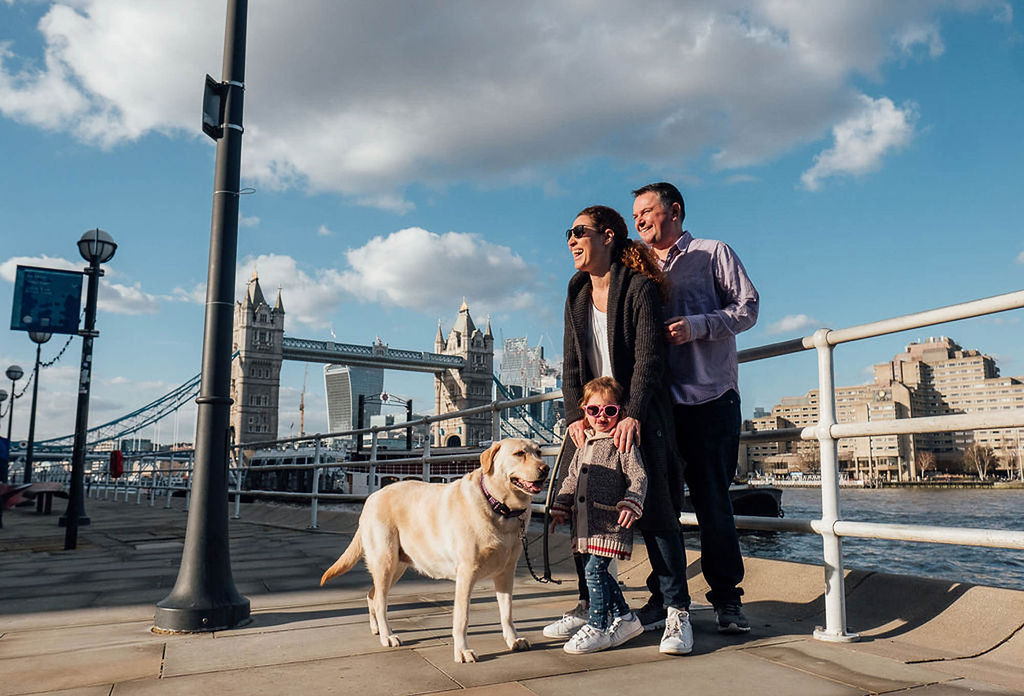 London Locations
Using such an iconic location made these London family photographs just that little bit cooler (as well as adorable Agapi with her shades on of course ;) ). Don't ever be put off worrying about crowds when choosing a London location. Even if it's busy, other passers by in the background can add interest to your photos! Including the whole family (dog-owners I'm talking to you!) is also important. I tend to buck the trend when they say 'never work with children and animals' !
Outdoor London Family Shoots
I've been lucky enough to capture some awesome London family photographs in quite a few iconic locations now – and of course a sunny day always helps! Don't be afraid to go for something a bit different though – check out my blog posts on some family shoots in Peckham, Greenwich, and at the Natural History Museum!
Agapi absolutely loved her day exploring the local area with her parents, and of course Elsa had to come along too! Although countryside shots can be beautiful, wandering the streets of London offers loads of opportunities for interesting backgrounds for your London family photographs.
Favourite London Family Photographs – Tower Bridge
Here are some of my absolute favourites from my Tower Bridge photo shoot with Anastasia, Dino and Agapi. If you're looking to get some London family photographs of you and your little ones then do get in touch! You can reach me via my Contact page at the link below, or on 07841 457799.
Contact London Family Photographer
And while you're there, check out my blog on 'ditching the park' to help you choose your shoot location!
Why You Should Ditch the Park For Your London Family Shoot