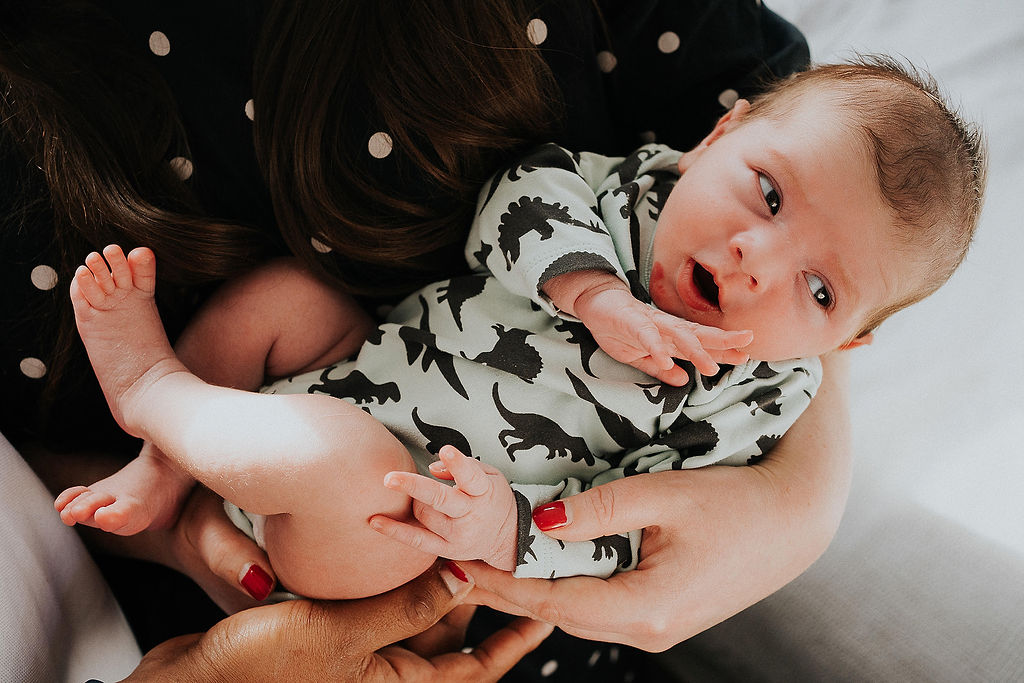 A beautiful, relaxed newborn photo shoot in Barnet
I have some gorgeous photos from a newborn photo shoot in Barnet to share with you today! Mum Kayleigh got in touch with me to take some lovely photos of her and Dad Akshar's newborn baby girl Ria.
At-Home Newborn Photography in Barnet
I always recommend that newborn sessions take place in your own home. In this instance, we had the most beautiful light in the family's third-floor bedroom – skylight windows work so well for that beautiful back-lighting, as you can see in some of the photos below! Baby Ria was a delight to photograph, she was so chilled throughout the whole shoot and we got a lovely mix of photos of her both wide awake and dozing peacefully!
When To Book Your Newborn Photo Shoot in Barnet
I recommend getting in touch well before your due date to ensure my availability for your Newborn Photo Shoot. Having said that, I can usually find weekday availability at fairly short notice if required.
I find the sweet spot in terms of timing for a Newborn Photo Session is around 10 days. It's so wonderful to be able to capture those gorgeous photos of baby whilst they're still tiny, but I of course want you to be feeling as recovered and settled as possible after birth!
My blog post What Is The Best Age For A Newborn Shoot? delves more into various options with timing your newborn photo shoot, and you can find example photos of babies who were photographed much later than the standard 'recommended' time.
Booking a newborn photo shoot in Barnet or elsewhere.. | How Does It All Work?
There's a simple 3-step process to booking with me!
Schedule your Discovery Call. A no-obligation chat via zoom or phone to find out about session options, my approach to photographing newborns and to ask me any questions you have! I'll also ask you to tell me a bit about your family so I can plan your session to suit you.
Photo Session Day! Relax and enjoy the experience while I capture those awesome real-life family moments for you to enjoy forever.
Viewing & Ordering Session. The really fun bit! Either in person at your home or via zoom, I'll show you your gorgeous finished photos and guide you through the process of choosing which ones you'd like and what you'd like to do with them. My Signature Albums are the most popular option for Newborn Sessions, followed by Legacy Print Boxes.
More on Choosing Print Products To Get The Most From Your Photos
Firstly – there's no hard sell, I'm here to help you get the most from your photos for years to come! My Albums, Wall Art and other print products are all handcrafted in Europe and have been carefully selected to be both stylish and long-lasting. The Albums and prints are guaranteed to last 75+ years and museum-quality archival papers are used.
Your print products are an investment for the future – these are photographs that one day your baby will show their babies! – so you'll want to make sure you're purchasing the photos that you really love.
My clients' favourite options for Newborn Photo Shoots are the Heirloom Album, plus mini copies for the grandparents of course!, digital files, and the Legacy Print Box.
Schedule a Call to find out more about booking a Newborn Photo Shoot in Barnet or elsewhere – I cover all of London and the South East. Or drop me a message with any questions you have!
Check out my 10 favourite photos from this newborn photo shoot in Barnet below.
Enjoy!
Helen x